Vision
Build a thriving network of energy professionals by providing the connections and opportunities UC Davis undergraduate and graduate students need to succeed in the energy sector. This network will foster and empower leaders who will help solve the energy and climate challenges of the 21st century and beyond.
Goals
The Emerging Energy Professionals (EEP) Program, hosted by the Energy and Efficiency Institute at UC Davis, provides:
professional development opportunities,
career counseling opportunities,
internship/career placement,
exposure to key energy issues/organizations, and
opportunities to stay connected and contribute back to the program after graduation.
This program targets select undergraduate and graduate students at UC Davis interested in pursuing careers in the energy sector.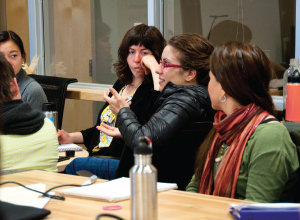 Any UC Davis student, at any point in their studies, who is interested in supporting efforts to realize sustainable energy solutions is eligible to apply to be a part of the EEP program.
In particular, the EEI will recruit students from the following programs and departments:
NEPTUNE Program
Energy Graduate Group
Graduate School of Management
Environmental Science and Policy
College of Engineering
Student Energy-related Groups on Campus.
The ideal student will be self-motivated, good at balancing school demands with outside activities, and able to commit about 1 hour a week to the program plus complete a summer internship.
Curriculum Components
Fall Quarter
Students meet every other week on Friday mornings from 9-10am in West Village.
Students attend weekly Energy Graduate Group seminars on Fridays from 10:30-11:50am, if possible.
Students can attend Career Fairs to network with energy companies.
Students will get placed in a small group to receive coaching from an appropriate Steering Committee member.
This quarter, we will focus on resume development, developing LinkedIn profiles, and identifying companies students are interested in meeting with.
Winter Quarter
Students meet once or twice a month for selected tours and alumni/career talks.
Students attend Career Fairs to network with targeted employers.
Spring Quarter
Students meet once or twice a month for selected tours and alumni/career talks.
Students attend weekly Energy Bites seminars on Fridays from 12pm to 1pm, if possible.
Summer
Successful students will complete summer internships or find a career position.
Program Requirements
EEP students will be required to:
Create a cover letter and resume and upload it to a common Box folder,
Create a LinkedIn account,
Join the Energy Network LinkedIn Group,
Engage with the Energy Network LinkedIn Group (make at least one post a quarter),
Meet with an assigned small group,
Attend a career fair, and
Apply for an internship/career position.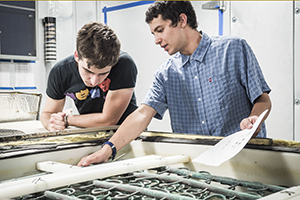 The EEP Program will draw from the experience and expertise of the: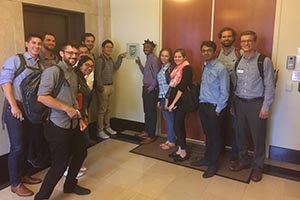 The success of the EEP Program will depend on harnessing EEI's sponsors and partners to provide a robust, meaningful, and valuable experience for students. In the past, EEI has successfully placed students and alumni at the following utilities, industries, and public agencies:
Pacific Gas & Electric
Walmart
Chevron
Southern California Edison
Wells Fargo
California Energy Commission
SMUD
Ecology Action
EPRI
CA Public Utilities Commission
California Independent Systems Operator
Management Structure
The EEP Program is managed by the EEI, a Steering Committee made up of recent UC Davis graduates working in the energy sector, and two Student Leaders from the current EEP class.
2019-2020 Steering Committee Members
2019-2020 Student Leaders
Miheer Shah – Master's student, Materials Science and Engineering
Dan Aki, Master's student, Chemical Engineering
Common Q&As
Can I apply to EEP if I participated last year?
You are welcome to apply again. First priority will be given to students that have not participated in the program, but any remaining spaces can be assigned to repeating students.
How much of a time commitment is EEP?
Students are expected to attend at least 80% of the Fall meetings (every other Friday from 9am to 10am) and Winter and Spring meetings (twice a month - dates and times will be determined based on student availability).
Students are expected to spend a few hours a month out of class preparing their resume, linked in account, etc.
Students are expected to attend the career fair(s).
Join
Applications for this program are currently closed. open. Applications for the 2020-2021 program will open in May 2020.