The Emerging Energy Professionals (EEP) Program, hosted by the Energy and Efficiency Institute at UC Davis, provides through an academic, year-long cohort format:
professional development opportunities,
internship placement,
career counseling, and
exposure to critical energy issues.
This program targets select undergraduate and graduate students at UC Davis interested in pursuing careers in the energy sector.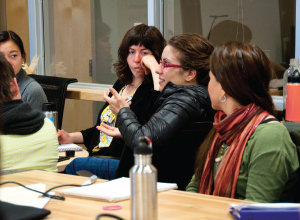 Any UC Davis student, at any point in their studies, who is interested in supporting efforts to realize sustainable energy solutions is eligible to apply to be a part of the EEP program.
The EEI will recruit in particular students from the following programs and departments:
NEPTUNE Program
Energy Graduate Group
Graduate School of Management
Environmental Science and Policy
College of Engineering
The ideal student will be self-motivated, good at balancing school demands with outside activities, and able to commit 2-5 hours a week to the program plus complete a summer internship.
Participating students will meet weekly on Friday mornings from 9-10am in West Village. Over the course of a month, each week will focus on one of the following program components:
1) Professional Development – sessions facilitated by the Internship and Career Center focused on topics including effective resumes and cover letters; interview skills; workplace communication; developing a professional identity; job search best practices; interview prep and mock interviews; and networking tips and tricks.
2) EEP Peer Learning – sessions facilitated by student leaders focused on relevant and timely energy-related topics. In addition to formal subject matter presentations, students will have the opportunity to practice research methods, lead discussions, and communicate findings through white papers.
3) EEP Discussions – sessions facilitated by the EEP Steering Committee focused on helping students solidify their knowledge on energy topics and learn about specific opportunities and challenges in the energy profession. Members of the steering committee will be selected to curate each deep dive on a rotating basis.
In addition, students will be encouraged to attend the Energy Graduate Group and Energy and Efficiency Institute seminars that occur on Fridays in the fall and spring quarter.
Finally, strong students will be matched and placed with external partners to complete summer internships. These connections will be made through an invitation-only career fair to be held in January 2019. This fair will follow the already-scheduled Engineering and Physical Sciences Career Fair to take advantage of recruiters who will already be on campus. In addition to internship placement, staff at the ICC will provide students will one-on-one advising to assist with clarifying internship goals, the preparation of application materials, and interview support. Students will be assigned mentors in addition to their internship supervisor and will be expected to provide work of excellent quality and high value to their employer.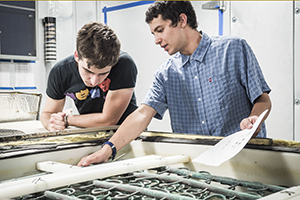 The EEP Program will draw from the experience and expertise of the: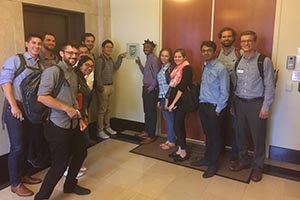 The success of the EEP Program will depend on harnessing the EEI's sponsors and partners to provide a robust, meaningful, and valuable experience for students.
In the past, the EEI has successfully placed students and alumni at the following utilities, industries, and public agencies:
Pacific Gas & Electric
Walmart
Chevron
Southern California Edison
Wells Fargo
California Energy Commission
SMUD
Ecology Action
EPRI
CA Public Utilities Commission
California Independent Systems Operator
We look forward to expanding opportunities for EEP participants to include:
SDG&E
Navigant Consulting
The EEP Program will be managed and overseen by the Energy and Efficiency Institute. In addition, the EEI will appoint a Steering Committee, made up of recent graduates working at the target companies identified above. The Steering Committee will consist of a Chair, or co-Chairs, and 4-6 professionals, ideally recent graduates of UC Davis, who will help guide the program and ensure its success. Steering Committee members will participate in monthly calls with EEI staff to prepare for upcoming EEP meetings/events and guide program development, facilitate and lead one EEP Program meeting, serve as an internal champion in their company for establishing internships, provide networking support, and function as a mentor to 1-3 EEP students.
Join
Applications for this program are open each fall.