The Mandela Washington Fellowship for Young African Leaders is a U.S. State Department initiative that brings approximately 1,000 young professionals from sub-Saharan Africa to colleges and universities across the U.S. for six weeks to hone their skills and participate in various professional development opportunities. Starting in 2016, UC Davis was selected as one of 36 universities across the U.S. to host the Mandela Washington Fellowship within Global Affairs. Mandela Washington Fellows increase their knowledge of the U.S., grow their professional networks, and gain the skills and connections they need to accelerate their own career trajectories and contribute more robustly to these democratic, peace-building ideals. Since 2016, UC Davis has hosted two cohorts of fellows with a specific emphasis on energy professionals.
---
"The Energy and Efficiency Institute aims to provide training and professional development opportunities for Mandela Washington Fellows working in the energy field so that they can expand energy services and reliability to reach the 70% of Africans who live without electricity."
---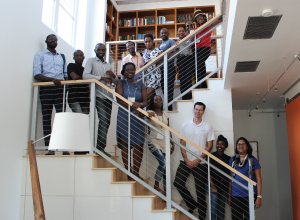 Attended Energy-Focused Academic Sessions at UC Davis
From mid-June through late July 2016, faculty, researchers, staff, and students across UC Davis worked with 25 Fellows, who hailed from 20 countries across sub-Saharan Africa. Fellows attended academic sessions led by professors in Biological and Agricultural Engineering; the Graduate School of Management; the Department of Land, Air, and Water Resources; and the Department of Environmental Science and Policy, among others. Researchers and staff from the Energy Efficiency Center, Western Cooling Efficiency Center, Center for Water-Energy Efficiency, Plug-in Hybrid & Electric Vehicle Research Center, and the Program for International Energy Technologies met with the Fellows to discuss their work.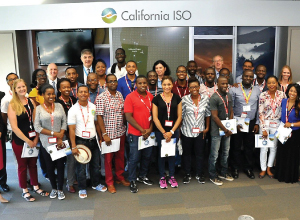 Participated in Unique Regional Energy Opportunities
In addition to gaining knowledge from, and interacting with, UC Davis experts, the Fellows also had the opportunity to meet others in the region working in the energy field. The group traveled to the California Independent Systems Operator in Folsom to see firsthand how the state manages the flow of electricity and how it forecasts supply and demand. The group also traveled to Berkeley to visit Lawrence Berkeley National Lab and a few Bay Area-based energy start up companies. The Fellows also spent a day in Sacramento to meet with state energy policymakers at the California Energy Commission and the Governor's Office, and had the opportunity to be introduced on the floor of the State Assembly. On campus, the Fellows toured the university's biodigester, its 16.3 megawatt solar power plant, Russell Ranch, and West Village.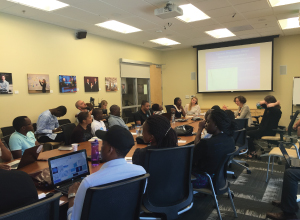 Created Talks to Highlight their Accomplishments
Throughout the first half of their time at UC Davis, the Fellows worked on individual 'Ignite Talks' – five minute TED-style talks that highlighted their accomplishments and hopes for improving energy access and efficiency in their home countries. They received feedback on their presentations from each other and fellowship staff. Fellows presented their ideas to one another and the public and one presentation was chosen to represent the UC Davis cohort at the Presidential Summit, which brought together all 1,000 Fellows, in Washington, DC. Adele Yayra Boadzo of South Africa represented UC Davis and spoke of her clean energy activism and solar entrepreneurship as the founder of Hope Rises Solar, an organization that trains women in solar technologies to electrify their communities.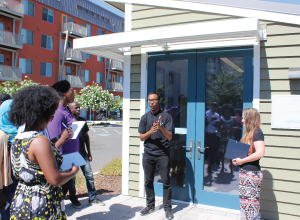 ---
"Fellows will leave the program with increased capabilities to affect real change in their home institutions, companies, and governments. They will gain skills around the design, evaluation, and viability of clean energy projects; approaches to challenges around the integration of renewable energy and energy efficiency strategies; and an increased understanding of innovative policy, regulatory, and entrepreneurial approaches to energy projection and distribution."
---