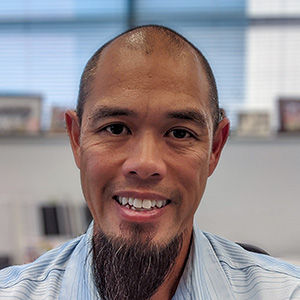 Arnold Agustin
Energy Program Manager
Naval Facilities Engineering Command, Mid-Atlantic
Mr. Arnold Agustin is the Energy Program Manager at Naval Facilities Engineering Command, Mid-Atlantic (NAVFAC Mid-Atlantic).  In this capacity, he is responsible for leadership and overall program management of NAVFAC Mid-Atlantic's Energy Program in the Public Works Business Line.  The Energy Program provides policy guidance, products and services, and shapes the short-term and long-term vision for all Department of Navy (Navy and Marine Corps) active installations in NAVFAC Mid-Atlantic's Area of Responsibility.
Mr. Agustin was born in Philadelphia, PA, and has lived in the Hampton Roads area since 1979.  He graduated from Salem High School, Virginia Beach, Virginia.  In 1994 he graduated from Virginia Tech with a Bachelor's degree in Aerospace and Ocean Engineering.  Mr. Agustin has been registered as a Professional Engineer in the state of Virginia since 2001 and obtained his Certified Energy Manager accreditation in 2010.
Mr. Agustin began his federal career in 1994 at Navy Public Works Center Norfolk working as an Environmental Engineer where he gained experience in performing environmental surveys, studies, and investigations.  In 2007 he took a position in the Utilities and Energy Management Product Line as a Regional Utilities and Energy Management Program Manager and was promoted to his current position in 2015.
Mr. Agustin lives in Suffolk, Virginia with his wife, Genevieve, and three sons.