By Andy Fell –
California's drive to save water during the drought had a double benefit: it saved a lot of energy as well.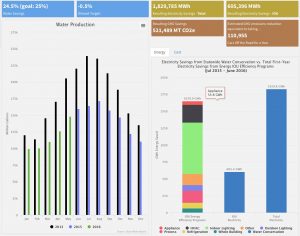 In April 2015, Governor Jerry Brown mandated a 25 percent cut in urban water consumption in the face of continuing drought. Water suppliers were required to report their progress to the State Water Resources Control Board. Now analysis of those figures by researchers Edward Spang, Andrew Holguin and Frank Loge at the UC Davis Center for Water-Energy Efficiency shows that while the state came within 0.5 percent of the water conservation goal, California also saved 1830 GigaWatt-Hours of energy — enough to power more than 270,000 homes.
The results are displayed at the California H2Open website. You can look at statewide figures or individual cities and water districts.
In terms of greenhouse gas emissions, the energy savings are equivalent to taking 110,000 cars off the road, the researchers calculate.
"The scale of these integrated water-energy-greenhouse gas savings, achieved over such a short period, is remarkable," Loge told the Los Angeles Times. The cost was competitive with conservation programs that specifically target energy use such as changing lightbulbs and appliances, suggesting that there might be plenty of scope for saving energy – and reducing greenhouse emissions – by saving another precious resource, water.
The large energy savings are possible because California uses quite a lot of energy to supply water in the first place, Spang told the Times. The state relies heavily on moving water from the wetter north to the dry south: about 19 percent of California energy demand is related to pumping, treating or moving water in some way.
More information
A silver lining from California's drought: Water conservation led to reduced energy use and less pollution (LA Times)
Read the study (Environmental Review Letters)
Interactive website: California H2Open