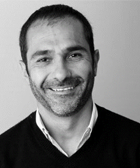 Arash Guity
Principal
LeapStep
Arash Guity is a Principal and co-founder of LeapStep, an interdisciplinary high-performance design consultancy, improving the performance of buildings for design firms and facility owners.
A licensed professional engineer with 15+ years' experience in the built-environment, Arash has crafted specific expertise in high-performance design, critically aiding the delivery of some of the most energy-efficient buildings.
Formerly, the Chief Energy Engineer at Mazzetti, Arash helped build the firm's practice and expertise in sustainable building design, leading them to becoming one of the premier firms in sustainable engineering. In his role at Mazzetti, he directed domestic MEP design projects, research initiatives, and the firm's efforts in resource-limited settings design projects in Africa and Central America.
As the Director of the Healthcare Ventilation Research Collaborative, Arash played a critical role in leading research to advance alternative ventilation strategies in healthcare environments.