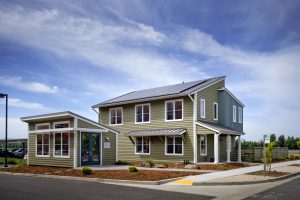 The Honda Smart Home is soliciting applications for new occupants. This unique opportunity is open to UC Davis faculty, staff or graduate students for 2018-2019.
About the Honda Smart Home:
The Honda Smart Home US, showcases technologies that enable zero net energy living and transportation. The home in UC Davis West Village is capable of producing more energy on-site from renewable sources than it consumes annually, including enough energy to power a Honda Fit EV for daily commuting.  A Honda-developed home energy management system and an energy efficient design will allow the occupants to use less than half of the energy of a similarly sized new home in the Davis area for heating, cooling and lighting. The home is also three times more water-efficient than a typical U.S. home.  Honda Smart Home will serve as a residence for a member of the UC Davis community. The fully-furnished home comes equipped with a Honda Fit EV battery electric vehicle for daily transportation.
In addition to showcasing Honda's vision for sustainable, zero-carbon living and personal mobility, the home will function as a living laboratory where the company, along with researchers from UC Davis and Pacific Gas and Electric Co. (PG&E), will evaluate new technologies and business opportunities at the intersection of housing, transportation, energy and the environment.
Occupancy Agreement and Application:
Full details of the occupancy agreement are described in the Honda Smart Home Occupancy Agreement and Honda Smart Home Occupancy Agreement-Exhibit A, the Research Assignment.
Note that the exact content of the research can be custom tailored to fit the occupant (the downloadable Exhibit is an example).  To be considered, please read both documents thoroughly and complete this form on-line. 
For full consideration, complete the form as soon as possible, but no later than Friday, March 16th 2018 at 5:00pm. Submissions will be viewed as they come in. (Sorry, feline and canine occupants will not be considered this time.)
Important Dates:
Application (Interest Form) Due Date: March 16, 2018
Notification Date: March 23, 2018
Move-In Date: September 1, 2018
Move-Out Date: August 31, 2019
Forms
Honda Smart Home Occupancy Agreement
Honda Smart Home Occupancy Agreement-Exhibit A
More Information
More information about the Honda Smart Home
For questions or additional information please contact:
Michael Koenig
Project Leader, Honda Smart Home