The monthly UC Davis Energy newsletter covers the university's energy-related research, education and events. You can read current and past newsletters below or subscribe to have it sent to your inbox.

UC Davis Graduates Will Help Build New EE Technical Reference Manual
This summer, four recent UC Davis engineering graduates are working with the Western Cooling Efficiency Center to add about 50 HVAC efficiency measures to the Electronic Technical Reference Manual. The California Technical Forum is developing this online manual as a proposed repository for all statewide deemed energy efficiency measures. Utilities could then use these measures to determine savings from energy efficiency programs. [More]
Solar Decathlon Team Receives Excellence in Structural Engineering Award
The UC Davis Solar Decathlon team received the Excellence in Structural Engineering Award from the Structural Engineers Association of Central California for their work designing and building OurH2Ouse for the 2017 U.S. Department of Energy's Solar Decathlon competition. This annual award recognizes excellence in structural engineering and project work in Central California. [More]
Energy Graduate Students Walk in Commencement Ceremony
Two Energy Graduate Group students walked in the recent UC Davis Commencement Ceremony. Nick Pappas and Leticia Pineda will graduate in the fall with master's degrees in Energy Systems. They were joined at the ceremony by Professor Alissa Kendall, chair of the Energy Graduate Group, and Professor Mark Modera, interim director of the Energy and Efficiency Institute.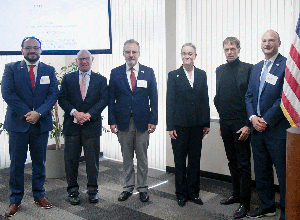 Lighting Center Hosts Annual LED Design Competition
Every year the California Lighting Technology Center hosts an annual lighting design competition that focuses on the development of LED luminaire design as a creative industrial design experience for undergraduates at UC Davis. LEDVANCE sponsored this year's competition, providing lighting products and technical support. The winner of the 2018 design competition was Jennifer Place, who created a unique moveable fixture. [More]
Staff Seminar Series Now Available On-line
This spring, the Energy and Efficiency Institute hosted an internal seminar series to share information about current research at the Institute's affiliated research centers. Topics ranged from thermal energy storage to energy demand management of water delivery infrastructure. View some of these presentations here.