During their first week on campus, Energy Graduate Group students participate in an orientation program–Power Trip– to learn about the wide variety of energy related research and policy work being conducted at UC Davis and in the Sacramento/Bay area through discussions with researchers and leaders from industry, government, public interest groups, and academia. PowerTrip is made possible by the generous support of individual donors.
Tuesday, September 14
By Kristi Dayemo
Masks couldn't hide the excitement of the new EGG cohort as they gathered around the conference room table. Students and faculty made small talk while waiting for the first activity, a series of introductory icebreakers. Energized from building marshmallow and spaghetti structures, the students returned to their seats to listen to the first speaker.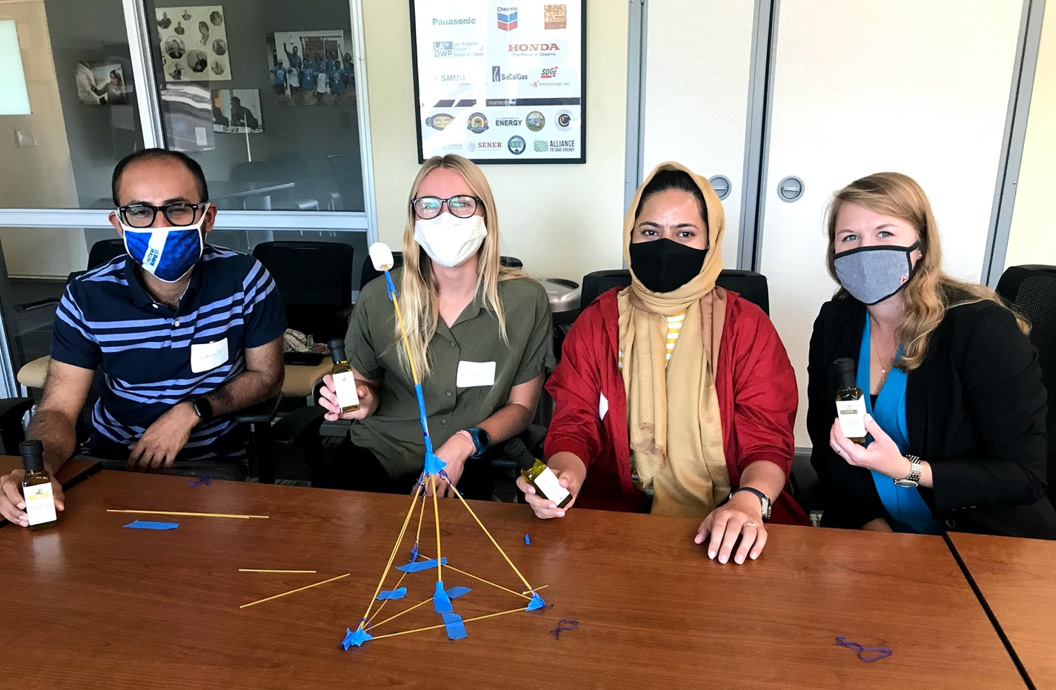 Professor Kendall kicked us off with an overview of energy consumption trends, decarbonization methods, and environmental justice. She covered concepts like the duck curve, California energy history, and important energy entities in California like the California Energy Commission, California Air Resources Board, and California Independent System Operator (CAISO). Next, Dr. Kissock and  Ben Finkelor introduced the Energy and Efficiency Institute (EEI). They impressed upon us the breadth of EEI's network and the importance of acting as ambassadors to the program as we progress in our careers. The morning session ended with a tour of the UC Davis West Village, a planned zero net energy community.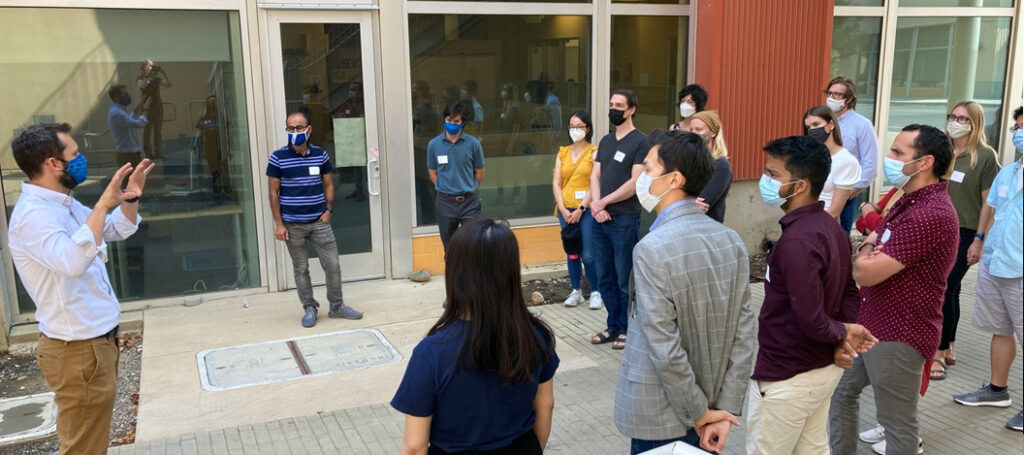 In the afternoon, Keoni Almeida from CAISO gave us an overview of the organization's mission and services. He discussed emerging issues that CAISO is facing, such as meeting fluctuating energy demands, adopting progressive state standards, and transitioning to distributed energy resources. Following Keoni's presentation, we participated in an open discussion facilitated by Ali Loge and the faculty. We talked about the social and economic impacts of battery material, the future of nuclear power, and our inspiration for joining EGG. 
Panama Bartholomy from the Building Decarbonization Coalition was our final speaker of the day. He began by giving us background on gas consumption and costs in buildings. Panama explained methods to decrease gas consumption in buildings such as solar panels, induction stoves, and heat pumps. He ended the session with advice to work on clean energy generation and emphasized the importance of developing a strong professional network.
Wednesday, September 18
By Farhana Sharmin
On Wednesday, our PowerTrip programming was mostly virtual. We started with an insightful talk by Ralph Cavanagh, co-director of the Energy Program/Senior Attorney at Natural Resources Defense Council.
After the lunch break, we began a discussion with Pacific Gas and Electric Company (PG&E). John Caffrey, Sr. Program Engineer, Custom Implementation from PG&E, introduced us to the organization, highlighting the diversity of staff working on energy efficiency and the current programs that are being developed to help decarbonize the grid, while increasing environmental equity. Maril Wright, Sr. Director, Customer Energy Solutions provided a brief welcome speech. Over the course of the afternoon, we were able to learn about PG&E's Community Wildfire Safety Program from Justina Louie, Manager, Electric Program Management. Chris McNeece, the director of Short-Term Electric Supply then described how rates in a short-term electricity contract may stay the same or fluctuate based on the market. Then Marlene Murphy-Roach the director of Income Qualified Programs & Disadvantaged Communities talked to us about how their work affects energy justice and environmental justice for disadvantaged communities in California.
Wrapping up the PG&E session, we spoke with several UC Davis alumni working at the company. The alumni had different energy, environmental, and economics-related backgrounds and discussed their experiences, work environments and future opportunities at PG&E. It was great to connect with these energy professionals with UC Davis backgrounds!
After a short afternoon break, we met with representatives from the consulting firm Energy + Environmental Economics (E3). Kai Orans (Head of People Development), Tory Clark (Director), and several E3 consultants, talked to us about some of the clean energy transition projects they are involved in, their integrated modeling framework and their recruiting and hiring processes. Jonathon Stage from Willdan, then spoke to us about their new construction projects nationwide and the California Energy Design Assistance program, involving the optimization of customer and stakeholder needs along with the description of the systematic processes they follow. He also mentioned the California Ecosystem and California Energy Efficiency program that was recently launched.
The last event of the day took us to the farmer's market in Davis, where many farmers gather every week to display and sell what they grow locally, as well as a variety of other goods. We were able to meet and chat with both incoming and returning energy graduate students and all got to know each other better. This in-person activity, at the end of the day, felt refreshing after a day of virtual sessions. Overall, it was a successful day that helped us learn more about energy and what we might want to do in the future.
Thursday, September 16th
By Brianna Dooley
Our third day of Power Trip began with a tour of the main campus district heating system conversion project, led by Josh Morejohn, Energy Manager of UC Davis Facilities. Josh explained why the campus has taken on this massive project of converting its old and inefficient campus steam distribution system to a new energy-efficient hot water system for heating. After seeing some live action construction, Josh also showed the group several building mechanical rooms, both old and newly converted.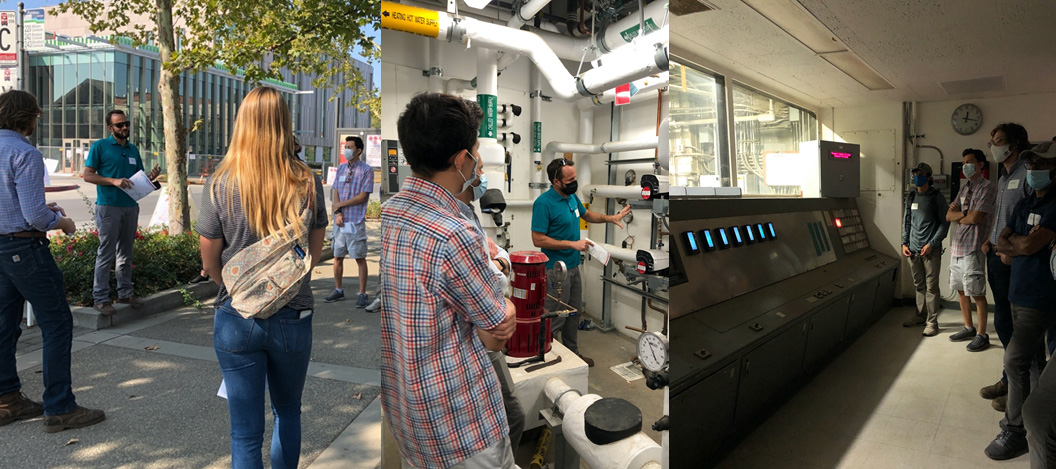 Josh then led the group on a tour of the Central Heating and Cooling Plant (CHCP), which serves over 8 million square feet of building space on campus with hot and chilled water. Students were able to experience the sheer size of the large equipment and appreciate the work that facilities has done to make the plant as efficient as possible.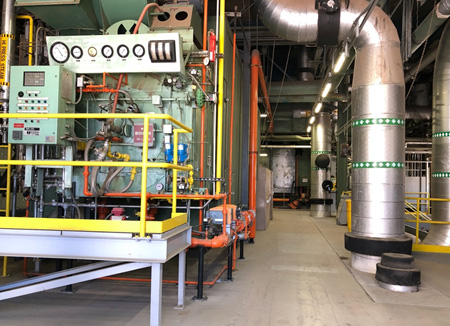 Power Trip continued in the afternoon with a virtual presentation by Jose Bodipo-Memba, Director of Sustainable Communities at the Sacramento Municipal Utility District (SMUD). After sharing an overview of SMUD history, vision, and operations, Jose talked about his role in ensuring that all communities within SMUD territory can participate in energy and incentive programs, as well as his work in closing the gaps that often leave marginalized communities out. He demoed SMUD's Sustainable Communities Resource Priorities Map, an interactive tool that displays data on different local areas that are most likely to be underserved or in distress. 
Our final activity of the day featured a virtual panel with prominent energy leaders in California. We heard from Commissioner Andrew McAllister of the California Energy Commission (CEC) and Commissioner Martha Guzman Aceves of the California Public Utilities Commission (CPUC). Commissioner McAllister shared information about his extensive career experience and his current work with the CEC to improve data and forecasting tools to support clean energy policy. Commissioner Aceves gave students an overview of the CPUC's structure and current initiatives in the state.
I think EGG students felt inspired by all of the activities today, as they were able to learn more about some great initiatives headed by UC Davis, SMUD, the CEC, and the CPUC.  
Friday, September 17th
By Brianna Dooley
On Friday, we started our day at West Village with "lightning round" presentations from energy-related programs on campus. We heard from Kurt Kornbluth's Program for International Energy Technologies (PIET); Josh Morejohn's Energy Conservation Office (ECO); Robert Good and the Center for Water-Energy Efficiency (CWEE); Colin Murphy and the Policy Institute for Energy, Environment, and the Economy; Chris Simmons and the Food-Energy Nexus; Cori Jackson and the California Lighting Technology Center (CLTC); Scott Hardman and the Plug-in Hybrid & Electric Vehicle Research Center (PH&EV); and Sarah Outcult's Market Transformation Research Program (MTRP). 
Students also met with David Phillips, Associate Vice President of Energy and Sustainability at the UC Office of the President. David gave an overview of the history of sustainability within the UC system and how it has advanced rapidly in the past decade. He then discussed current UC goals related to climate, energy, transportation, water, and food.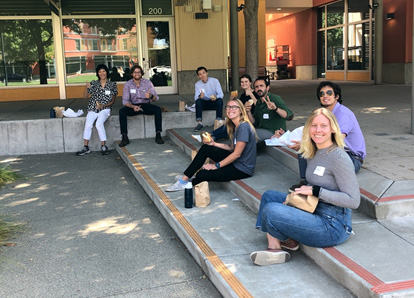 After a nice outdoor lunch,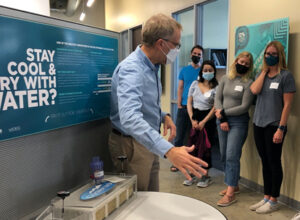 the lighting round introductions continued with a tour of the Western Cooling Efficiency Center (WCEC), led by Dave Vernon, the Co-Director of Engineering. Dave showed students a few of the innovative research projects the Center is working on, like aerosolized sealants for building envelopes and the testing of new refrigerants with lower global warming potential.
We finished the day with an interactive session led by Sarah McCullough, Associate Director of the UC Davis Feminist Research Institute (FRI) and three current EGG students. The "Asking Different Questions" activity focused on how we, as STEM students, can better frame our research to incorporate justice and a commitment to diversity, equity, and inclusion. In small groups, students reflected on why they chose the EGG program at UC Davis and what their goals are. The groups also worked together to create mind maps of who they feel they have a responsibility to, ranging from their family to their advisors, their community, and beyond. The larger group then collaborated on drawing a "power map" of all parties who have a hand in energy and energy policy–from utilities, to the CPUC, the CEC, up to CAISO, FERC and even the United Nations. I think students really enjoyed this workshop, because it allowed us to explore and realize the complex relationships among energy, policy, research, and culture.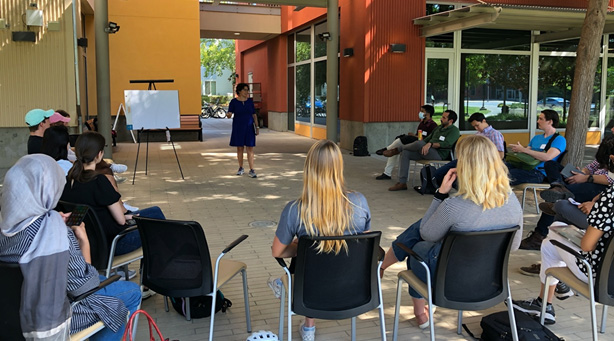 To wrap up our exciting week, we met at a local Davis park for pizza. It was great to get together with incoming and current EGG students.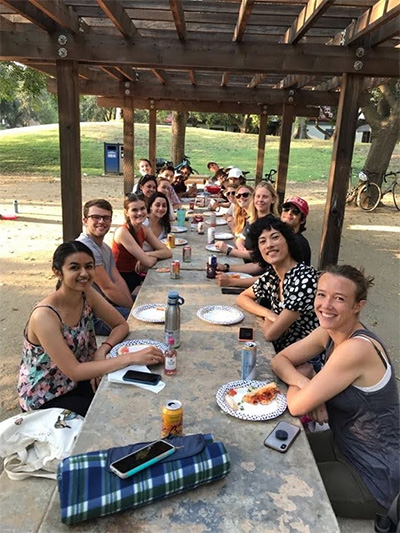 Student Testimonials
Power Trip is the best-kept secret at EGG and UCD. It seems like a footnote when applying, but if grad school is more about networking and building connections than taking tests, then this program, the Energy Graduate Group orientation, is doing it right. The energy and expectations are high. It feels like we've done so much already, and classes have hardly even started.
Power Trip provides an excellent introduction to every and all things energy. It is comprehensive and introduces you to industry, innovation, and policy. It brings ideas you may not have previously thought to be of interest to you. The socializing events created an inclusive, compassionate cohort that truly wants to see everyone succeed.
Power trip was such a great way to kick off grad school. It provided a fantastic intro into the California energy landscape and opened our minds to a great array of different topics and issues that we'll be able to engage with through the program.
Power Trip is an amazing crash course on the California energy sector and a warm welcome to the research opportunities at UC Davis. We had the opportunity to interact with a wide range of stakeholders, faculty, and fellow students. I feel a sense of community and belonging with the EGGies and reassurance that I picked the right program.
Power Trip was a fantastic way to be introduced to EGG, EEI and more. Meeting with important industry players and partners like CAISO, SMUD, and PG&E was a unique opportunity that I value highly. Getting to know my cohort and the faculty/staff involved was another great way to start off the year. My friends in other graduate programs were jealous of how many group activities we had!