UC Davis is leading the way among the 10 campuses within the University of California, proactively making efforts to reduce greenhouse gas emissions and achieve carbon neutrality. Eight years ago, UC Davis developed the 2009-2010 Climate Action Plan—a roadmap for the journey toward a more sustainable future—which is now helping to achieve the campus' part in the University of California's goals. The plan analyzes campus issues around greenhouse gas emissions reductions, energy use, and energy sourcing.
---
"UC has pledged to become carbon neutral by 2025, becoming the first major university to accomplish this achievement."
---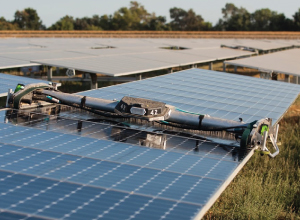 Dedicated a 16.3 MW Large Solar Power Plant
In November 2015, UC Davis formally dedicated a 16.3 MW large solar power plant, the largest known of any university campus, which yearly will generate approximately 33 million kilowatt-hours for the campus, and reduce greenhouse gas emissions by about 14,000 metric tons.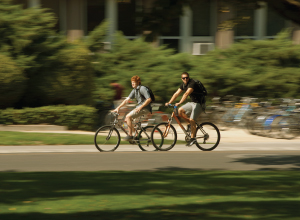 Participated in the Cool Campus Challenge
In fall 2015, UC Davis participated in the Cool Campus Challenge—an online pledge campaign that engaged nearly 20,000 staff, students, and faculty in reducing UC's carbon footprint.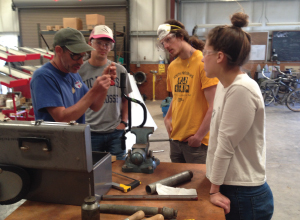 Students Worked on Campus-Based Projects
The Program for International Energy Technologies and the UC Davis Energy Conservation Office worked together to provide students in project-based learning classes with real, campus-based climate neutrality and energy policy projects campus district steam heating to hot water heating, analyzing energy storage options, analyzing potential for ocean wavegenerated energy, and assembling and reviewing complex commuting data for the campus Medical Center
---
"UC Davis was named the most sustainable university in the world in the 2016 International GreenMetric Global Ranking, a survey of 516 colleges and universities from 74 countries conducted by the University of Indonesia."
---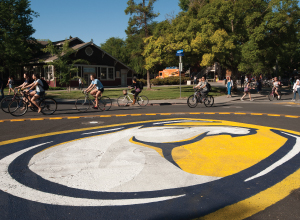 Ranked First in Environmental Sustainability
UC Davis moved up two spots to place first in environmental sustainability in the 2016 international GreenMetric Global Ranking, a survey of more than 500 colleges and universities conducted by the University of Indonesia. The campus also placed eighth in the Sierra Club's "Cool Schools" 2016 ranking.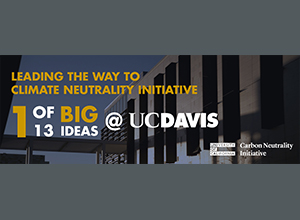 Launched Big Idea: Sustainable Campus, Sustainable Cities
In 2015, UC Davis issued a call to faculty, staff, and students for "big ideas" to serve as the foundation for a second comprehensive fundraising campaign. Interest from across the university was unprecedented with nearly 200 ideas received. The campaign steering committee evaluated these ideas and selected 13 to move forward. Dr. Kurt Kornbluth of the Program for International Energy Technologies is the faculty champion for the Big Idea "Sustainable Campus, Sustainable Cities."
No major University in the world has been more visionary in creating a decarbonized society: UC Davis established the first Zero-Net Energy community and leads the world in sustainable transportation, energy efficiency, and high-performance building research. Now, using the UC Davis Campus as a "Living Lab", the Sustainable Campus, Sustainable Cities (SCSC) initiative will demonstrate how a city-sized institution can grow while fighting climate change. For more information on this initiative, please click here.
---
"These ideas have the potential to shape the future of UC Davis for generations to come and lead to discoveries that will solve both California and the world's most pressing problems."
—Shaun Keister, Vice Chancellor, Development and Alumni Relations
---