Switched On: For more than 40 years alumnus Ron Nichols has helped shape California's energy policy
By John Stumbos
The sun is rising on a clean energy future, and alumnus Ron Nichols ('75, agricultural economics and business management) is helping it take shape in Southern California.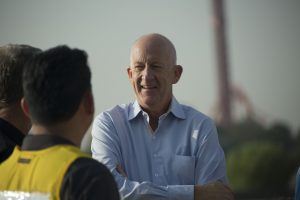 Nichols is president of Southern California Edison, the state's second largest power company and a strong advocate for a renewable energy strategy that sharply reduces dependence on fossil fuels. Last April, he returned to his alma mater to deliver the keynote address to the UC Davis Energy Affiliates Forum, a group of academics and energy industry professionals. His message was clear. Solar energy is an essential and rapidly growing part of California's economy and is helping the state make a significant impact on air quality and climate change mitigation.
UC Davis gave Nichols precisely the tools and the opportunity he needed to launch his successful career in the energy industry. He was drawn to Davis by its academic reputation, its small-town atmosphere and also by its proximity to the Sierra Nevada, where the Colorado-native could indulge in one of his favorite pastimes, skiing.
Initially, he considered a career in engineering, but found his niche in the agricultural economics and business management major. "What I liked about it was it was applied economics," he said. "I related to that a lot better and found it immensely easier to learn as a result. It really interested me."
It was obviously a good choice.
In the right place at the right time
During his senior year in 1975, Nichols landed an internship with the newly created California Energy Commission. He worked full time through the summer and wrote a paper on the economic barriers limiting improved energy conservation in residential housing.
Nichols found that building codes weren't providing the right incentives. The commission responded by prioritizing needed changes to the building standards that influence energy efficiency measures.
"It was a great lesson," he said. "And it was interesting to be able to influence all of that as an undergraduate."
Upon graduation, Nichols took a professional position at the Energy Commission. "I got this incredible opportunity at the end of my undergraduate education," he said. "I was going to learn a lot more in this job than I ever imagined a graduate degree would teach me, and I never would have had that opportunity were it not for UC Davis."
In the mid-1970s, California's utilities had conceptual plans for upward of 20 new nuclear power plants and up to a dozen coal-fired plants, Nichols said. He and a fellow employee in the commission's law office were asked to develop regulations for power plant siting, which were nonexistent at the time. With a team of engineers, soil scientists, biologists, air quality specialists and others, they crafted the regulations and requirements for applications for new power plants in California.
"I headed up informational hearings around the state," Nichols said. "I learned that whole process at 22, an outrageously young age."
A consulting company coup
After three years at the Energy Commission and two years with the Department of Water Resources, Nichols was ready to move on. He and a colleague started Resource Management International, a consulting company dealing with water and energy infrastructure planning and development.
"We thought maybe we'd get to 15 to 20 people someday," he said. "We expanded to 14 offices in the U.S., Canada, Mexico, Europe and Asia with 425 employees. It grew beyond our wildest expectations."
In the late 1990s, Nichols and his partners sold the company, but he stayed on to head up the company's energy practice for another 10 years.
Lured back to California
Nichols, then living near Seattle, got a phone call in late 2010 from the mayor's office in Los Angeles. "They wanted to talk to me about becoming general manager of the Los Angeles Department of Water and Power (LADWP)," he said. "It was an interesting challenge and I took it."
LADWP is the largest municipal utility in the United States. At the time, it was facing a number of issues. Water and power improvements were needed. Too much power was coming from out-of-state coal. Little had been done on energy efficiency or solar. Nichols slashed the budget to build support for investments in energy efficiency, renewable energy, water conservation and water reclamation work.
"We got a lot done in the three years I was there," he said. "It was a good organization and I learned a lot, especially about the nexus of Southern California politics, water, and electric utility issues."
Charting a clean, bright future
Nichols joined Southern California Edison first as its senior vice president of regulatory affairs in 2014 and then as president of the company in 2016.  He is responsible for regulatory and external affairs, power production and energy procurement, and the decommissioning of the San Onofre Nuclear Generating Station.
The company's strategy relies heavily on solar energy, which has fallen in cost remarkably in the last five years. "That's great but we need a place to store this energy and use it at different times of the day," he said.
The solution is lithium-ion batteries, similar to those used in electric automobiles. These batteries pack dense amounts of energy in flexible, modular systems. Twenty megawatts—enough to meet peak demand for 15,000 to 18,000 homes—can be bundled into modules about the size of eight to 10 shipping containers.