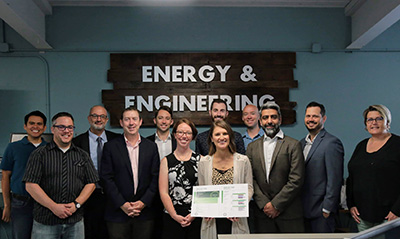 On July 16, the University of California, Davis Energy Conservation Office was officially recognized for its sustainability achievements with a BREEAM certification and plaque. The Energy Conservation Office, or ECO, is the first US building to complete all three parts of the BREEAM certification. This new achievement adds to UC Davis' accomplishments in building sustainability with three BREEAM and 16 LEED certifications to date.
BREEAM Helps Users Assess Buildings
BREEAM, or Building Research Establishment Environmental Assessment Method, is the world's first sustainability rating program for the built environment. BREEAM helps users measure and reduce the environmental impacts of their buildings through an assessment process. After a buildings' operations are documented, points are earned by making various environmental improvements.  "BREEAM fits our approach of evaluating buildings in a comprehensive way to improve their performance and meet occupant needs in the most sustainable way possible," said Josh Morejohn, Energy Manager for ECO.
ECO Advances UC Davis' Energy and Sustainability Goals
Previously used as the on-campus ROTC facility, ECO now houses the Energy and Engineering team. The team's mission is to improve building performance and eliminate energy waste at the building level to further UC Davis' carbon neutrality goals and practice sustainable stewardship on campus. ECO is a testbed for building technology and is an office space for students and staff who are dedicated to collaborating with campus partners to make buildings operate more efficiently. "It made sense to pursue BREEAM here to showcase our innovative mindset and efficient operations, as well as serve as a valuable learning opportunity for the Green Buildings Team to further green building certification on campus," said Alex Malm, Green Buildings Project Manager for ECO.
For more information:
UC Davis Energy Conservation Office