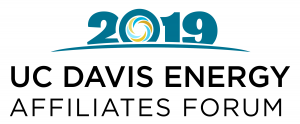 On Tuesday, April 16, 2019 the UC Davis Energy and Efficiency Institute and its affiliated research centers held their annual Affiliates Forum. This gathering provides a unique opportunity for our affiliates and others to engage with the latest R&D and program initiatives at UC Davis and to network and explore innovative energy solutions across sectors, including lighting, heating/cooling, and water.
Testimonials: What our attendees liked about the Forum
I was impressed by the quality of the attendees, their knowledge, passion and openness to engage in discussions.
Networking: the progressive dinner was a great forum to meet more people.
This was an excellent, well organized, and well attended event.
Poster boards and the interactive lunch. The research being done on all levels is relevant to the Industry.
I liked hearing about what the other EEI centers are working on, and talking to them about their work.
Meet with people, not only manufacturers, but also government officials.