UC Davis Students and Faculty Attend Microgrid Master Class
On June 18, 2018, UC Davis students and faculty participated in a hands-on, microgrid training at the Naval Postgraduate School in Monterey, California. UC Davis' participation in the training was sponsored by the Naval Enterprise Partnership Teaming with Universities for National Excellence (NEPTUNE) program, which helps the U.S. Navy and Marine Corps improve energy conservation, generate renewable energy, and implement energy-efficient technologies.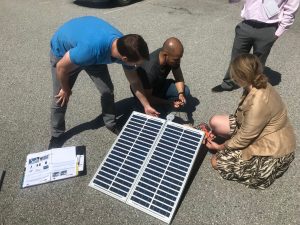 Developed by Arizona State University researcher Nathan Johnson, the microgrid training taught participants how to use grid modernization software and energy resource technology to streamline microgrid development. Participants then used these methods to design, implement and test scalable microgrids in a timely, cost-efficient manner.
Microgrids offer a number of important benefits; they can help increase reliable energy access to low income and rural areas, which often experience financial barriers to traditional power grid access, and can provide energy in situations that require mobile or temporary energy solutions. The reduced cost for developing microgrids is also beneficial for situations that require mobile, temporary solutions.
This training will help inform a UC Davis NEPTUNE research project that is examining ways to improve plug-in electric vehicle infrastructure on military bases.